Keep track of the latest mystery and crime novel releases from your favourite best-selling authors and discover new and emerging authors.
Listed below are the new Australian crime fiction novels that were released in 2021.
Wherever possible the exact release date is included with the publisher details. We have also included the synopsis that was supplied by the publisher and have included the sub-genre(s) we believe the book sits under.
---
April 2021
The Ripping Tree by Nikki Gemmell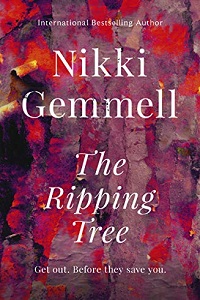 Publisher: HarperCollins
Pub Date: 7 April 2021
Sub-Genre: Historical Mystery
Order Paperback at Amazon
Order Kindle at Amazon
Early 1800s. Thomasina Trelora is on her way to the colonies. Her fate: to be married to a clergyman she's never met. As the Australian coastline comes into view a storm wrecks the ship and leaves her lying on the rocks, near death. She's saved by an Aboriginal man who carries her to the door of a grand European house, Willowbrae.
Tom is now free to be whoever she wants to be and a whole new life opens up to her. But as she's drawn deeper into the intriguing life of this grand estate, she discovers that things aren't quite as they seem. She stumbles across a horrifying secret at the heart of this world of colonial decorum – and realises she may have exchanged one kind of prison for another.
---
March 2021
Other People's Houses by Kelli Hawkins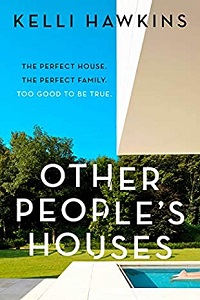 Publisher: HarperCollins
Pub Date: 3 March 2021
Sub-Genre: Suspense
Order Paperback at Amazon
Order Kindle at Amazon
Kate Webb still grieves for her young son, ten years after his loss. She spends her weekends hungover, attending open houses on Sydney's wealthy north shore and imagining the lives of the people who live there.
Then Kate visits the Harding house – the perfect house with, it seems, the perfect family. A photograph captures a kind-looking man, a beautiful woman she once knew from university days, and a boy – a boy that for one heartbreaking moment she believes is her own son.
When her curiosity turns to obsession, she uncovers the cracks that lie beneath a glossy facade of perfection, sordid truths she could never have imagined.
But is it her imagination? As events start to spiral dangerously out of control, could the real threat come from Kate herself?
---
Hidden Valley by Annie Seaton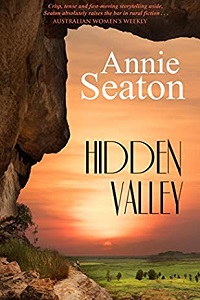 Publisher: ASA
Pub Date: 5 March 2021
Sub-Genre: Romantic Suspense
Order Paperback at Amazon
Order Kindle at Amazon
Happily working on her family's macadamia farm in the rolling hills of northern New South Wales, Dee Peters receives an enigmatic letter hinting of family secrets, and the prospect of her inheriting a cattle station in the Northern Territory outback. Torn in many directions: the request that she meet with a solicitor in Darwin, the evasive behaviour of her parents and the opposition of family friend and her-almost-fiancé, Rodney Andrews, Dee's contented life is suddenly thrown into turmoil.
The last thing she expects is to inherit a sprawling cattle station in the rugged outback, but she travels to the Territory to find the truth of the inheritance. Intrigued by the vague hints of the elderly solicitor, Dee decides to stay on the station for six months while she attempts to make sense of the past.
Ryan Carey has managed Wilderness Springs cattle station since his father died suddenly. Devastated when he discovers the property has not been bequeathed to him, the last thing Ryan expects is the arrival of a woman, and one who is keen to take over the running of the property. With reluctance, he agrees to work with Dee, but as she tries to make sense of why the property was left to her, a chilling secret from the past will shock them both.
As Dee and Ryan attempt to uncover the secrets of Wilderness Springs, it soon becomes very clear that someone will do anything to stop them discovering the truth.
Set in the harsh countryside west of Kakadu National Park, this is a thrilling mystery about hidden family secrets and finding love in the harsh Australian outback.
---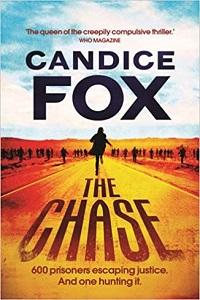 Publisher: Bantam Australia
Pub Date: 30 March 2021
Sub-Genre: Thriller
Order Paperback at Amazon
Order Kindle at Amazon
Are you listening, Warden?'
'What do you want?'
'I want you to let them out.'
'Which inmates are we talking about?'
'All of them.'
When more than 600 of the world's most violent human beings pour out from Pronghorn Correctional Facility into the Nevada Desert, the biggest manhunt in US history begins.
But for John Kradle, this is his one chance to prove his innocence, five years after the murder of his wife and child.
He just needs to stay one step ahead of the teams of law enforcement officers he knows will be chasing down the escapees.
Death row supervisor turned fugitive-hunter Celine Osbourne is single-minded in her mission to catch Kradle. She has very personal reasons for hating him – and she knows exactly where he's heading . . .
---
February 2021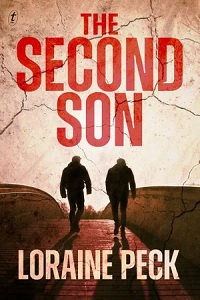 Publisher: Text Publishing
Pub Date: 2 February 2021
Sub-Genre: Suspense
Order Paperback at Amazon
Order Kindle at Amazon
Duty always has a price.
When Ivan Novak is shot dead putting out his garbage bins in Sydney's west, his family wants revenge, especially his father Milan, a notorious crime boss. It's a job for the second son, Ivan's younger brother Johnny.
But Johnny loves his wife Amy and their son Sasha. And she's about to deliver her ultimatum: either the three of them escape this wave of killing or she'll leave, taking Sasha.
Torn between loyalty to his family and love for his wife, Johnny plans the heist of a lifetime and takes a huge risk. Is he prepared to pay the price? And what choice will Amy make?
The Second Son is a brilliant action-packed crime debut that creates a world where honour is everything, violence is its own language, and love means breaking all the rules.
---
The Imitator by Rebecca Starford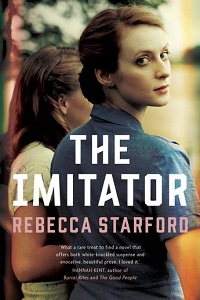 Publisher: Allen & Unwin
Pub Date: 2 February 2021
Sub-Genre: Espionage, Suspense
Order Paperback at Amazon.com.au
Order Kindle at Amazon.com.au
Out of place at boarding school, scholarship girl Evelyn Varley realises that the only way for her to fit in is to be like everyone else. She hides her true self and what she really thinks behind the manners and attitudes of those around her. By the time she graduates from Oxford University in 1939, ambitious and brilliant Evelyn has perfected her performance.
War is looming. Evelyn soon finds herself recruited to MI5, and the elite counterintelligence department of Bennett White, the enigmatic spy-runner. Recognising Evelyn's mercurial potential, White schools her in observation and subterfuge and assigns her the dangerous task of infiltrating an underground group of Nazi sympathisers working to form an alliance with Germany.
But befriending people to betray them isn't easy, no matter how dark their intent. Evelyn is drawn deeper into a duplicity of her own making, where truth and lies intertwine, and her increasing distrust of everyone, including herself, begins to test her better judgement. When a close friend becomes dangerously ensnared in her mission, Evelyn's loyalty is pushed to breaking point, forcing her to make an impossible decision.
---
Crackenback by Lee Christine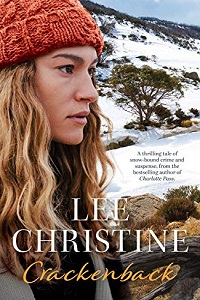 Publisher:Allen & Unwin
Pub Date: 2 February 2021
Sub-Genre: Police Procedural
Order Paperback at Amazon.com.au
Order Kindle at Amazon.com.au
Detective Sergeant Pierce Ryder of the Sydney Homicide Squad is on the hunt for notorious fugitive Gavin Hutton.
After months of dead-ends, the breakthrough Ryder has been hoping for leads him back to the New South Wales Snowy Mountains on the trail of the suspected killer.
Meanwhile, when an injured man bursts into the remote Thredbo lodge managed by Eva Bell, her first instinct is to protect her daughter, Poppy. The terrifying arrival of Jack Walker turns Eva's world upside down as the consequences of Jack's presence become clear.
With a killer on the loose, Jack Walker and Ryder are tangled in the same treacherous web – spun across the perilously beautiful Crackenback Range.
---
The Silent Listener by Lyn Yeowart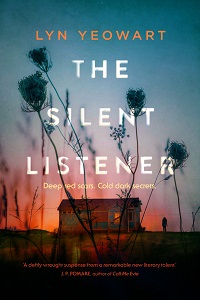 Publisher: Viking
Pub Date: 2 February 2021
Sub-Genre: Suspense
Order Paperback at Amazon.com.au
Order Kindle at Amazon.com.au
Propelling the reader back and forth between the 1940s, 1960s and 1980s, The Silent Listener is an unforgettable literary suspense novel set in the dark, gothic heart of rural Australia.
In the cold, wet summer of 1960, 11-year-old Joy Henderson lives in constant fear of her father. She tries to make him happy but, as he keeps reminding her, she is nothing but a filthy sinner destined for Hell . . .Yet, decades later, she returns to the family's farm to nurse him on his death bed. To her surprise, her 'perfect' sister Ruth is also there, whispering dark words, urging revenge.
Then the day after their father finally confesses to a despicable crime, Joy finds him dead – with a belt pulled tight around his neck . . .
For Senior Constable Alex Shepherd, investigating George's murder revives memories of an unsolved case still haunting him since that strange summer of 1960: the disappearance of nine-year-old Wendy Boscombe.
As seemingly impossible facts surface about the Hendersons – from the past and the present – Shepherd suspects that Joy is pulling him into an intricate web of lies and that Wendy's disappearance is the key to the bizarre truth.
---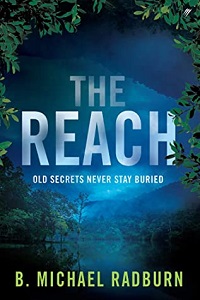 Publisher: Pantera Press
Pub Date: 2 February 2021
Sub-Genre: Rural Thriller
Buy Paperback at Amazon.com.au
Buy Kindle at Amazon.com.au
In secluded Devlins Reach, on the shores of the Hawkesbury River, three bodies are unearthed in an excavation site. When a wilderness expert, Park Ranger Taylor Bridges, is called in to assist local police, he soon discovers the town has an unsettling history – one to match Taylor's own haunted past.
But the quiet location and picturesque beauty of The Reach are hiding something darker than Taylor could have anticipated. Within the town's tight-knit community of loggers, store owners and tight-lipped locals, someone is targeting the residents one by one.
As a torrential storm surges ever closer, and the river swells at the levee walls, The Reach goes into lockdown. With no way in or out, Taylor finds himself in a race against the power of nature to find a desperate killer before the whole town goes under.
---
The Spiral by Iain Ryan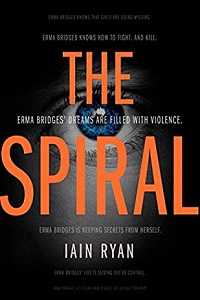 Publisher: Echo Publishing
Pub Date: 2 February 2021
Sub-Genre: Thriller / Fantasy
Buy Paperback at Amazon.com.au

Erma Bridges' life is far from perfect, but entirely ordinary. So when she is shot twice in a targetted attack by a colleague, her quiet existence is shattered in an instant.
With her would-be murderer dead, no one can give Erma the answers she needs to move on from her trauma. Why her? Why now?
So begins Erma's quest for the truth – and a dangerous, spiralling journey into the heart of darkness.
With all the inventiveness of The Seven Deaths of Evelyn Hardcastle and the raw brutality of Mulholland Drive, THE SPIRAL is a unique crime thriller with killer twists – and 2020's most jaw-dropping ending.
January 2021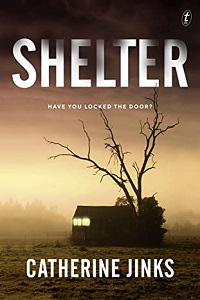 Publisher: Text Publishing
Pub Date: 5 January 2021
Sub-Genre: Suspense
Order Paperback at Amazon
Order Kindle at Amazon
Meg lives alone: a little place in the bush outside town. A perfect place to hide. That's one of the reasons she offers to shelter Nerine, who's escaping a violent ex. The other is that Meg knows what it's like to live with an abusive partner.
Nerine is jumpy and her two little girls are frightened. It tells Meg all she needs to know where they've come from, and she's not all that surprised when Nerine asks her to get hold of a gun. But she knows it's unnecessary. They're safe now.
Then she starts to wonder about some little things. A disturbed flyscreen. A tune playing on her windchimes. Has Nerine's ex tracked them down? Has Meg's husband turned up to torment her some more?
By the time she finds out, it'll be too late to do anything but run for her life.
---
Beware of Dogs by Elizabeth Flann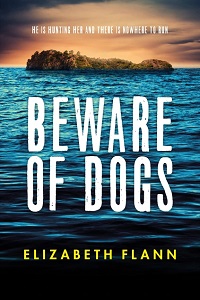 Publisher: HarperCollins
Pub Date: 6 January 2021
Sub-Genre: Thriller
Order Paperback at Amazon
Order Kindle at Amazon
She's isolated. Trapped. Hunted. An almost unbearably tense Australian survival thriller.
Not much daylight left now.
So begins the field diary of Alix Verhoeven, whose impulsive acceptance of an offer to spend Easter on a remote island has turned into a terrifying ordeal. Hiding in a tiny cave, she carefully rations out her meagre supplies, while desperately trying to figure out how to escape the men hunting her. She is determined not to be a victim.
What do they want with her? She knows it's nothing good – she overheard enough on that first night to flee. But now she's got little food or water, no way of calling for help, and only her skills as an exploration geologist and memories of Atkinson's Bushcraft Guide to survive.
By day she is disciplined and lives by strict plans, but at night she finds herself haunted by questions about her life that she has never wanted to face.
And her time is running out.
---
Heiress on Fire by Kellie McCourt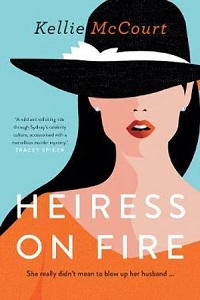 Publisher: Harlequin
Pub Date: 6 January 2021
Sub-Genre: Humorous
Order Paperback at Amazon
Order Kindle at Amazon
After accidentally blowing up her husband, can Indigo get back on her four-inch heels? In this madcap debut, One for the Money meets Crazy Rich Asians with a little Miss Fisher's Murder Mysteries thrown in.
The marriage of Aussie billion-heiress Indigo-Daisy-Violet-Amber Hasluck-Royce-Jones-Bombberg to conscientious reconstructive surgeon Dr Richard Bombberg has come to a spectacular end. In the middle of a cocktail party, Indigo set him and a mysterious redhead on fire. And then blew them and her penthouse up. All terrible accidents.
When detectives discover explosive device remains in the charred penthouse, they're gunning for Indigo. Unless she can remain upright, stuff her dignity into her Chanel clutch and uncover the mystery redhead's identity, she's going to jail.
To help Indigo, her semi-retired, semi-Buddhist, supermodel mother hires Esmerelda, a recent graduate of the model mentor prison program, as Indigo's personal assistant. Indigo and Esmerelda traverse Sydney's upper-class underbelly picking locks, outsmarting bankers and leprechauns, beating up feared gangsters, breaking into hospitals, setting a cathedral on fire (another terrible accident), bribing a giant fireman and some other stuff.
How hard can all this be for an heiress and a felon?
---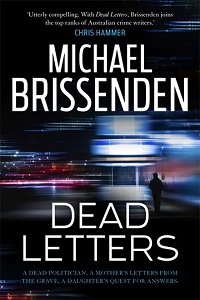 Publisher: Hachette Australia
Pub Date: 27 January 2021
Sub-Genre: Thriller
Order Paperback at Amazon
Order Kindle at Amazon
A dead politician. A decades-old unsolved murder. A hornet's nest is about to be stirred.
Counter terrorism expert Sid Allen knows nothing good ever comes from a phone call at 5 am. Politician Dan LeRoi, Chairman of the Joint Committee on Intelligence and Security, has been shot. Four bullets to the head. The crime scene is chaotic. Homicide. Counter Terrorism. Media. And for Sid, hunting the killer is going to get complicated.
Journalist Zephyr Wilde is complicated. She's tenacious and she's got Sid's number. Sid knows the gossip: how Zephyr's mother was murdered when Zephyr was a kid. He doesn't know that Zephyr is still getting letters from her long-dead mother. But when he learns that Dan LeRoi was helping Zephyr look into her mother's death, he realises that lines are going to be crossed. A cop should not be talking to a journalist.

As they both ask too many questions, Sid and Zephyr stir up a hornet's nest of corruption. Knowing who to trust is going to mean the difference between solving a crime and being a victim. The question is, which side will they end up on.